About T H E O Z
'T H E O' means the "Divine Gift " in Greek.

'Creation is a divine process'. We create to detail at every step of the way to design beautiful spaces that compliment your place."

We are a Multidisciplinary firm involved in Interior, Architecture, design and execution for residential and commercial projects in Cochin, Kochi, Kerala, Established in Since 1999. T H E O Z is driven by a team of highly qualified BFA artists including interior designers, architects, concept developers, engineers, landscape professionals and supervisors.
Promise
We believe that every client has different requirements and dreams. we recognize that immediately and try to build a long-term relationship with our clients through strong communication and solid works. Our well experienced designers to promise your satisfaction.


Awards
Awards are always Inspiration. We offer architectural and environmental solutions comprising of Climate Studies. Every new day teaches a strong lessons.

"Best Home Interior Designer Award 2018"
from BC to AD Global.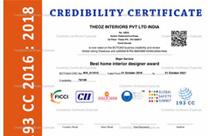 We are inviting you to have a coffee with us for a better deal!